48 HOURS IN AMSTERDAM, NETHERLANDS
First of all, Norwegian Airlines gets you to European cities like Amsterdam, Paris and London in premium style for a really affordable rate. They are my new go-to for my European adventures, so be sure to check them out! Also subscribe to their newletters because they share deals all the time!
I've been to Amsterdam two times now and I can confidently say that it's one of my favorite cities to visit in Europe. For a relatively small city as compared to nearby London and Paris, there are so many things to love and get into. But also because of its size and ease in navigation (public transportation is easy breezy!) you can get a lot done in Amsterdam in 3-4 days, or in my case both times, in 48 hours!
It seems that the team at iamsterdam, the tourism authority, agrees because their I Amsterdam City Card grants you access to lots of free public transportation, museum entry, canal cruises and more within 72 hours. Your trip won't be the same without it!
Areas to explore:
Leidesplein - for a lively time with shopping, dining and people watching. Depending on the night of the week, Jimmy Woo nightclub could be a good look. During the day check out Pancakes Amsterdam in this area, but Leidesplein truly comes alive at night!
Museum district - For art lovers, definitely make a stop in the arts district where you roam a campus of different museums. Most notable are the Van Gogh Museum and Rijks Museum. This is also where you'll find the big iamsterdam sign that tourists love. NOTE: If you're planning to take a photo here, arrive before the crack of dawn because it's always full of people.
Rotterdam – not in Amsterdam proper but a quick train ride away, this area is where you'll find a lot of black folks and culture (Dutch Caribbean, West Indian, African, etc)
City Centre - Just about everywhere you go near the city center and the surrounding canal belts you will be walking over and around the canals. This is by far the best part of the experience of Amsterdam. It's charming in a way that's not easily put into words. Give yourself time to roam around and explore Jordaan, The Red Light District, etc. Each area has its own feel and unique appeal.
By looking at a map, Amsterdam can seem overwhelming and complicated to navigate but I promise once you get there it's way easier than you think! It put these maps here just so you can familiarize yourself with the landscape and how to get around. Once you have a baring on how Amsterdam is set up and where things are relevant to other places, you'll waste less time going the long way and maximize your time doing exactly what you want.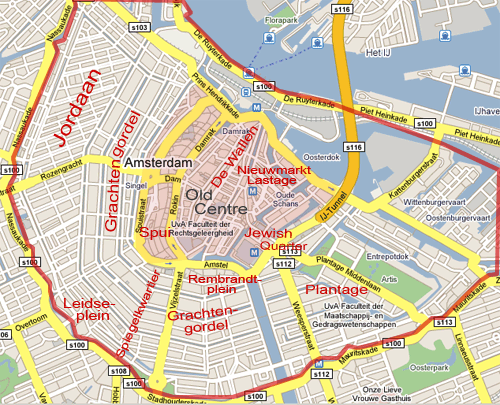 Where to Stay: On this most recent trip to Amsterdam I stayed at the element Amsterdam. The hotel was connected to Gelderlanplein Mall which was comforting because 1-if someone doesn't know where your hotel is, they can always find a mall! This is helpful especially because Dutch is not the easiest language lol. And 2-in case you forgot anything for your trip, with a mall right next door you don't have to travel too far for much.
I loved the location of the hotel because it was in a residential neighborhood so we definitely felt like part of a community of people going to work every day and enjoying their nights. Also, it was near the 5 tram that literally goes down through so many of my favorite areas to explore mentioned above – including Leidesplein, the Museum district, the Heineken Experience, the Red Light District and more! So most of the time we found ourselves hopping on and off the same tram line which was SUPER convenient and cost efficient.
If you want to be closer to the action, I suggest doing your research on the different neighborhoods along the canal belt to see exactly what you want to be close to!
Sites you can't miss:
Where to eat & drink:
Food Hallen - a cool indoor food market that has live music on Tuesdays 630-1130 and Live DJs 630pm – 1am on Friday & Saturday nights.
Kam Yin - Surinamese Chinese food. One of my favorite spots because it's tasty, inexpensive and conveniently located near… nighttime like activities in the Red Light District. Ha! There's a combo meal with duck and pork—get your whole life.
Pancakes Amsterdam – dutch pancakes most similar to french crepes, but a little sweeter. It's generally the same idea though - you can go sweet with fruits and sugars or savory with meats and cheeses. Either way it's delicious!
(...More Recommended Good Eats in Amsterdam)
Cafe Winkel 43 - the applie pie (cake, kinda) is phenomenal
Bird Thai - a MUST
Verse Vlaamse Frites - gotta get your fries with mayo AND ketchup. It's the Dutch way!
If you partake:
Of course a huge part of the Amsterdam experience is marijuana. From bags to pre-rolled to edibles. If you partake in the reefer, here are some go-to spots, but really, everyone has their personal faves.
Bulldog Coffee Shop in the Red Light District: there are several of these Coffee Shops on the same street. Each has its own feel, type of crowd, music etc. In addition to different types of weed, some offer food, some offer drinks. My favorite is the Bulldog First - where they're typically playing hip-hop, r&b and some funky pop mix and their Belgian Waffle is phenomenal!
Coffee Shop Bas Joe – another favorite a little less touristy. There's indoor and outdoor seating in a quaint young neighborhood right on the canal. This is where you go if you want to be super lowkey and just vibe out a bit.
Other recommendations that we didn't get a chance to hit:
Windmills – about 30 minutes outside of Amsterdam you can take in the windmills and traditional Dutch culture. There's an option to rent bikes and ride around as well as get some good homemade chocolate. I'll definitely make it here for my third Amsterdam visit, because I can't wait to go back!
For immediate travel inspiration, follow @Kingronthedon on Instagram.